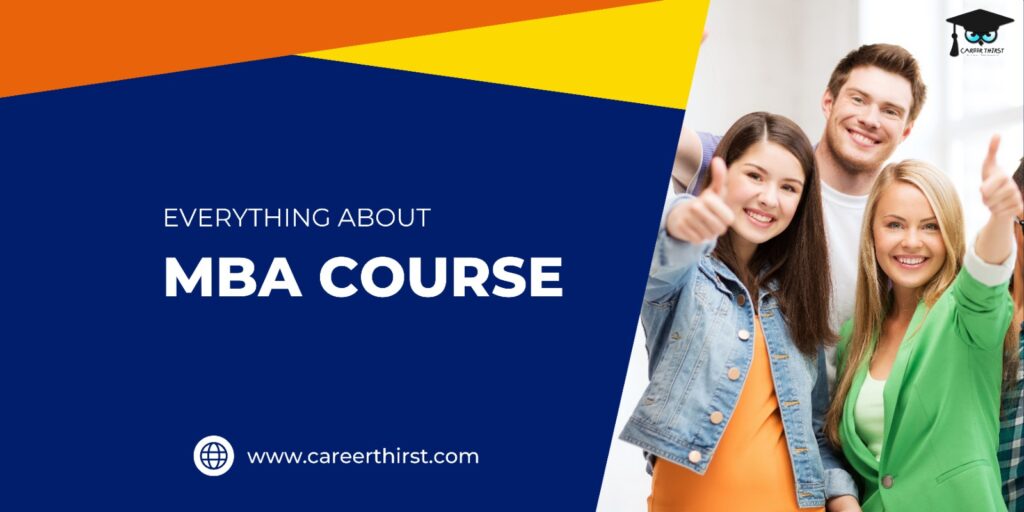 MBA stands for Master in Business Administration and is among the most demanding management degree. It was first introduced by the Harvard University Graduate School of Administration in 1908 and after that, it was offered by B Schools globally. It is a two-year post-graduation course made for those students who see their career in the management field. This program provides the knowledge of theoretical knowledge as well as practical knowledge for business and investment purposes.
The course of 2 years is divided into 4 or 6 semesters and students from any background can pursue it. There are numerous specializations like marketing, finance, sales, information technology, and many more. The advantages of an MBA are as follows:
Better Career Opportunities
High Salary
Develop Management Skills
Developing Industry Network
Global Exposure
Develop Leadership Skills
 Types of MBA Program:
Full-Time MBA Program
Part-Time MBA Program
Distance MBA Program
Online MBA Program
Executive MBA Program
Key Highlights of the MBA Program:
It is a post-graduate business degree program that mainly focuses on business, management, and Entrepreneurship.
This mainly focuses on certain key aspects of other specializations like risk management, and finance management.
There are many top B-Schools that also offer specializations like Sports management and healthcare management.
There is an MBA program for experienced professionals which is known as Executive MBA Program. It is done for the purpose of promotion and growth of the job or position in the company.
Specializations offered in MBA Program:
In the current market scenario, we know that competition is growing day by day. As per the data given by the Labor Statistics, the job in the management sector will grow by around 7 percent from 2020 to 2029. This has increased the demand for bachelor's degrees in management and to be separate from the market one should go for doing MBA program. You can also boost your career by doing a specialized MBA program, below is the list of a few specializations under MBA Program:
MBA in Marketing Management
MBA in Information Technology
MBA in Rural Management
MBA in Sports Management
MBA in Healthcare Management
MBA in Accounting Management
MBA in Logistics and Supply Chain Management
MBA in Digital Marketing Management
MBA in Business Analytics Management
MBA in Data Analytics Management
MBA in Entrepreneurship Management
MBA in Finance Management
MBA in Strategy Management
MBA in International Business Management
MBA in Human Resource Management
MBA in Risk Management
MBA in Operations Management
Other Key Specializations in MBA Program:
MBA in Banking and Insurance Management
MBA in Tourism Management
MBA in Disaster Management
MBA in Retail Management
MBA in Sales Management
MBA in Business Economics
MBA in Pharmaceutical Management
MBA in Biotechnology
MBA in Aviation Management
MBA in Fashion Designing
MBA in Corporate Social Responsibility
MBA in Hospital Administration
How to choose the Best specialization for you?
There are many offered specializations that are offered by different B Schools across India. Since there are many specializations offered this creates a lot of ambiguity among the students to choose the best specializations for them. There are a few reasons below that will help in choosing the best specializations for the students.
Scope of the preferred MBA specialization in the upcoming future.
The Reputation of the Institute for that given specialization.
The Quality of Faculty which are offered by the institute for that given MBA specialization.
The student and faculty ratio of the given MBA Institute.
The Batch Size as well as the data of the company which comes for given in the given institute.
Return on Investment which is offered by the given institute in that particular specialization.
The Average Package, Median Salary, Lowest Package as well highest package offered by the given Institute.
Entrance Exam for MBA Admission:
MBA Entrance Exam plays a very crucial role in admission to top business schools in India and abroad. We know that MBA becomes one of the most desired degrees among the passing graduates of the country. Through this degree, the students get a plethora of opportunities in the corporate field. There are both national-level exams as well as state-level exams for admission to top MBA colleges in the country. These Entrance exams will be the gateway to admission in top MBA colleges like Indian Institute of management, FMS and many other top B Schools of the country. Here is the list of top entrance exam for admission in top MBA colleges are as follows:
CAT Exam
SNAP Exam
MAT Exam
CMAT Exam
IIFT Exam
XAT Exam
TISSNET Exam
MH CET Exam
MICAT Exam
NMAT Exam
API CET Exam
IBSAT Exam
KMAT Exam
NBSAT Exam
TSICET Exam
TANCET Exam
List of Top MBA Colleges in India:
IIM Ahmedabad
IIM Bengaluru
IIM Kolkata
IIM Kozhikode
Faculty of Management Studies, Delhi
Indian Institute of Foreign Trade, Delhi
Management Development Institute, Gurgaon
XLRI, Jamshedpur
SP Jain Institute of Management and Research, Mumbai
ISB Hyderabad
Top MBA Colleges of Delhi NCR:
Department of Management Studies, IIT Delhi
FMS, Delhi
IIFT, New Delhi
Indian Institute of Management, Rohtak
IMI, New Delhi
IMT, Ghaziabad
Lal Bahadur Shastri Institute of Management, New Delhi
Fore School of Management, Delhi
Soil, Gurgaon
BML Munjal University, Gurgaon
Top MBA Colleges of Bangalore:
IIM, Bangalore
Alliance University
Jain University
Ramaiah Institute of Management Studies
Christ University
Xavier Institute of Management and Entrepreneurship
Acharya Institute of Management
Jagdish Sheth School of Management
Welingkar Institute of Management and Research
SIBM, Bangalore
We at Careerthirst are pioneered in the field of MBA Counselling as we have an expert counselor from a top Business school in India. Their vast experience and knowledge helps student in getting admission their dream college. So if you are looking for admission in top B Schools of India and abroad, then careerthirst id one stop solution for you.