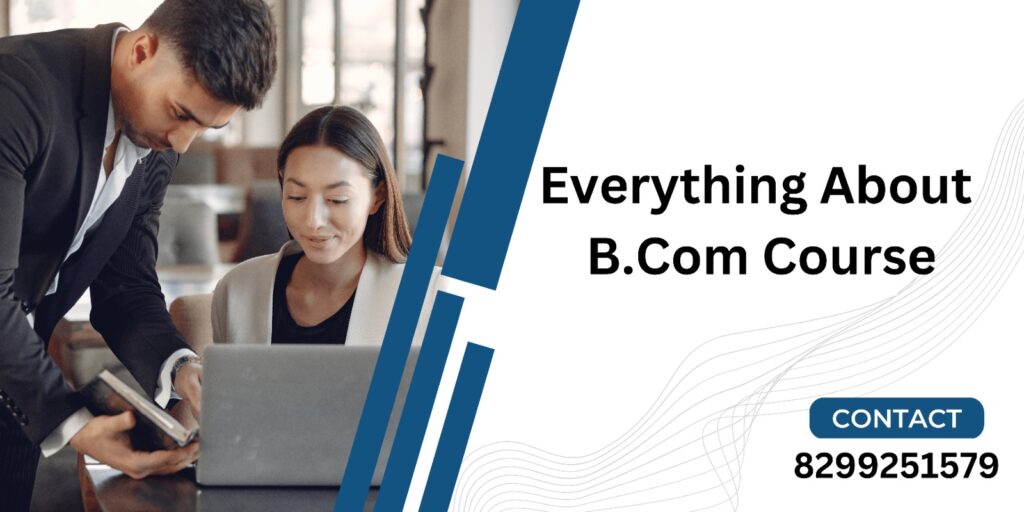 Bachelor of Commerce whose abbreviated form is known as B.Com. In order to take admitted to this program, which is open to students who have completed their (10+2) th-grade education with commerce as their main subject i.e. they should be from a commerce background. We know that a B. Com course is a three-year professional undergraduate Programme, that can be pursued by students who have already earned their (10+2) in the commerce stream from a recognized board/institution in our country. With the help of this program, one gets a deep dive into the various aspects of commerce and business. As per the data given by the All India Survey on Higher Education, there was around 9.5 Lakh enrolment last year. This shows that it ranks as the third most demanding course and few students are more interested in b.com (Hons ) because they want to gain more in the commerce stream.
The main objective or goal of this degree is to provide students with the managerial skills they will need in certain fields of business or during their job. Over the course of three years, students study business management, accounting, finance, actuarial studies, and economics as part of the Bachelor of Commerce degree program. The course is available in different modes also like online, distance, part-time & traditional regular and it depends solely on the student in which mode he wants to study.
There are two ways through which the students get admission to top b.com colleges of India including St. Stephen, Hindu, Shri Ram, Ramjas, and a few others. These colleges take a selection on the basis of the 12th score which is called merit-based admission and one is through entrance exam scores. The student's merit will be determined by the results of the entrance exam and the score he scored in the entrance exam. In addition to the DUET, BHU UET, NPAT, and IPU CET, there are a number of entrance exams that are held every year for B. Com students that you need to prepare for that entrance exam.
B.com Course Highlights:
Full Form

Bachelor Of Commerce

Course Level

 

Undergraduate

Duration

 

Three Years

Eligibility

 

One must have scored more than 40 % In Class 12th or Equivalent Exam

Average Fees

It Ranges from 7000 to 40,000 Per Annum

Admission Process

Merit-Based or Entrance Exam-Based admission

Entrance Exams

IPU-CET, NPAT, BHUUET , CUET

Core Subjects

Cost Accounting, Business Management, Financial Accounting, Company Law, Taxation, and many more.
Eligibility Criteria for Admission:
Here is the list of criteria through which one can apply for this course:
The student who wants to apply should have studied Commerce in Class 11 and 12 with some compulsory subjects including Accountancy, Business Studies, Maths as the optional subject, and Economics
The student who is interested in admission to good colleges has to meet the minimum cut-off score as released by the university/ institute for admission.
Top B.com colleges in India:
Here is the list of top colleges of admission in India:
Christ University, Bangalore
Shri Ram College of Commerce, Delhi
Loyola College, Chennai
Hindu College, Delhi
Lady Shri Ram College for Women, Delhi
Hansraj College, Delhi
Ramjas College, Delhi
Xavier's College, Mumbai
NMIMS, Mumbai
Joseph College of Commerce, Bangalore
Top B.com Colleges in Delhi NCR:
SRCC
Lady Shri Ram College for Women
Sri Venkateswara College
Hansraj College
Hindu College
Sharda University
Gargi College
Amity University
Manav Rachna University
Mangalmay Institute of Management & Technology
Top B.com Colleges in Maharashtra:
Brihan Maharashtra College of Commerce
Garware College of Commerce
SKVM Mithibai College of Commerce
KJ Somaiya College
Hinduja College of Commerce
HR College of Commerce
Mumbai University
NMIMS College
Xavier's College
Symbiosis College of Arts & Commerce
Top B.com Colleges in Bangalore
Bangalore University
Jain University
Joseph's College of Commerce
Mount Carmel College
Kristu Jayanti College
Ramiah College of Commerce
PES University
BMS College of Women
Presidency College of Management
Alliance University
Entrance Exam for B.com Program:
IPU CET
NPAT
CUSAT
BHU UET
UPES DAT
DAVV CET
SUAT
LPUNEST
JUEE
DUET
Career Opportunities and Jobs after B.com:
There are numerous career opportunities that are offered after the completion of the above course.  The curriculum is selected very wisely which helps to get numerous job opportunities after the completion of the program.  The student after the completion of the course gets the ability to develop their reasoning skills as well as boost their logical skillset too. This course helps in becoming student self-reliant by obtaining a good knowledge in accounting, finance and business knowledge too. A list of job opportunities offered after the completion of the above course are here:
Accountant
Accountant Executive
Financial Analyst
Tax Consultant
Account Manager
Company Secretary
Account Manager
Business Consultant
Teacher
Chartered Financial Analyst
Certified Financial Planner
There are also multiple jobs which are there in the market apart from these jobs as well as numerous opportunities in the current market. The students after the completion of the course get an average salary which ranges around 3 to 5 lakhs per annum. Most students choose to go for graduation after the completion of this course like M.com, MBA, and many others courses. We at careerthirst help students in getting their dream college on the basis of their board exam scores as well the entrance exam score. Our experts guide the students to choose the best option as per their budget and location. This helps a lot of students in getting a good Return On Investment for the amount of fees they paid for their course .